Executive Desktop Meditation Zen Garden 14.5x10.5x1.0 - 7 lbs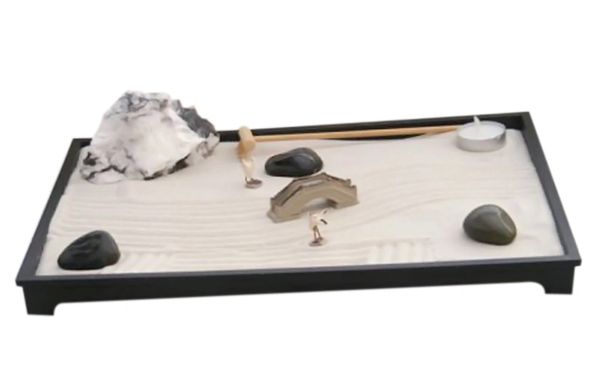 Executive Desktop Meditation Zen Garden 14.5x10.5x1.0 - 7 lbs
Experience serenity as you transform sand and stones into a personal landscape of graceful simplicity while creating an ambiance of pure tranquility. Inspired by the world famous Zen Rock Garden at Ryoan-ji in Kyoto Japan, our executive desktop Zen garden calms the senses, clears the mind and melts away daily stress. Our Zensational meditation Zen garden makes an impressive and memorable gift for family, friends and co-workers.

Purified, extra fine white sand, unique imported large focal rock, three black tumbled Zen stones shinny/ glossy of varying sizes.

Four tine Zen grooming rake, tea light candle, two ceramic crane birds 1.0"" tall, ceramic bridge 1.75"" all included.

Black heavy duty plastic base.

Measuring 14.5"" x 10.5"" x 1.0"" tall.
Average Shipping Time: 3
Reviews