Garden Tools: 8.3"" Classic High-Performance Pruner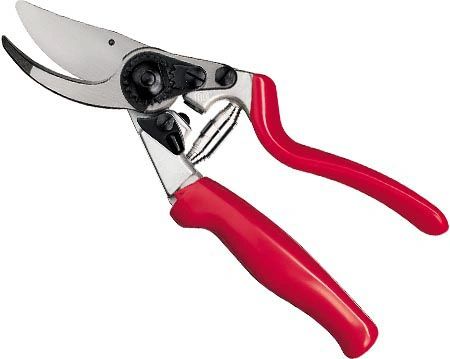 Garden Tools: 8.3"" Classic High-Performance Pruner
Recommended for intensive and prolonged pruning. A superbly designed ergonomic bypass Felco pruner for the professional. The Felco 7 has a rotating handle that revolves on its axis, allowing the fingers to move naturally, reducing the blisters and hand fatigue that so often accompany prolonged pruning work. This unique swivel action requires up to thirty percent less effort than conventional models and offers maximum comfort on continuous pruning. This is the top-of-line for Felco pruners. Blade with wire-cutting notch, sap groove, screwed anvil blade, forged aluminum alloy handles. Both cutting and anvil blades are not riveted, so they are easy to replace and the narrow, pointed blade design allows for close pruning. Includes adjustment key. Packaged in attractive plastic package suitable for storage, with instructions for care and maintenance tips. 8.25"""", 10.2 ounces.
Recommended cutting capacity is 1.0 inch
Size: 5-3/4""""
"" Sold Individually
Please note: If there is a color/size/type option, the option closest to the image will be shipped (Or you may receive a random color/size/type).
Reviews